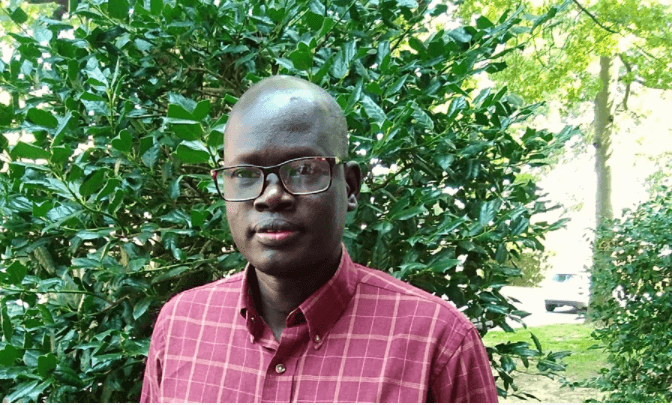 Story pulled from IRC Baltimore – read it here.
By Trieuvan Nguyen, financial coach and job readiness training specialist 
In January 2020, the IRC in Baltimore reached out to several clients who might benefit from participation in a newly launched financial capabilities program. Ajwara Didumo, a former refugee who worked as a child development officer for many years in Kenya's Kakuma Refugee Camp was eager to participate. Ajwara moved to Baltimore with his daughter in 2016, but like many newly arrived immigrants he did not have an established credit history and lacked foundational knowledge of the complex U.S. financial system. Within four years,  Ajwara had defaulted on some payments and was being pursued by a collections agency. He was unable to qualify for a credit card from his local bank.  
Having poor credit or no credit can make every-day living in the U.S. more expensive. Utility companies may require an additional deposit to qualify for services, or a second party to act as a guarantor of payment. A car loan becomes nearly impossible to obtain, limiting employment options to those accessible via public transportation. Education loans are also out of reach, hampering efforts at self-improvement. Having bad credit is a tough situation for anyone, but especially challenging for newly arrived immigrants needing support with banking, budgeting and building assets. 
Ajwara began his journey to financial recovery with a credit education class and coaching sessions with Van, IRC financial coach. Ajwara eagerly committed to long bus rides in the middle of winter to meet with Van and always began the meeting with a "thank you" and other expressions of appreciation toward IRC staff. Van spent time with Ajwara to thoroughly examine his credit report, building Ajwara's confidence as he learned how to take the initiative and negotiate with collection agencies and lenders to resolve his issues.  
Through his participation in IRC's financial coaching program, Ajwara qualified for a credit building loan through the Center for Economic Opportunity (CEO), the IRC's Community Development Financial Institution (CDFI). The mission of CEO is to promote upward economic mobility for low-income refugees and immigrant across the U.S. by offering targeted loan products designed to fortify their financial resilience and fill gaps in available financial services. Ajwara diligently paid back his credit building loan and saw his score increase significantly throughout the service period. IRC credit building loans range between $100 and $300 and have zero interest for six months. These loans allow clients like Ajwara to build a better credit score, opening the door to previously unattainable financial opportunities. To date, Ajwara has accessed 12 hours of financial coaching over the course of six sessions and he remains an active client in the program. Ajwara's efforts helped him qualify for a credit card, and he has become eligible for an IRC car loan as well as an array of products from other financial institutions.  
Ajwara is full of hope. He is employed full time at Amazon and has dreams of buying a home once his wife can join him from abroad. With his credit restored, Ajwara has the knowledge and skills to take charge of his financial future and pursue the American dream.  
If you would like to learn more about IRC loan products, please look here. You can also support clients like Ajwara by purchasing gift cards from our  Amazon wishlist or  donating to the IRC in Baltimore.