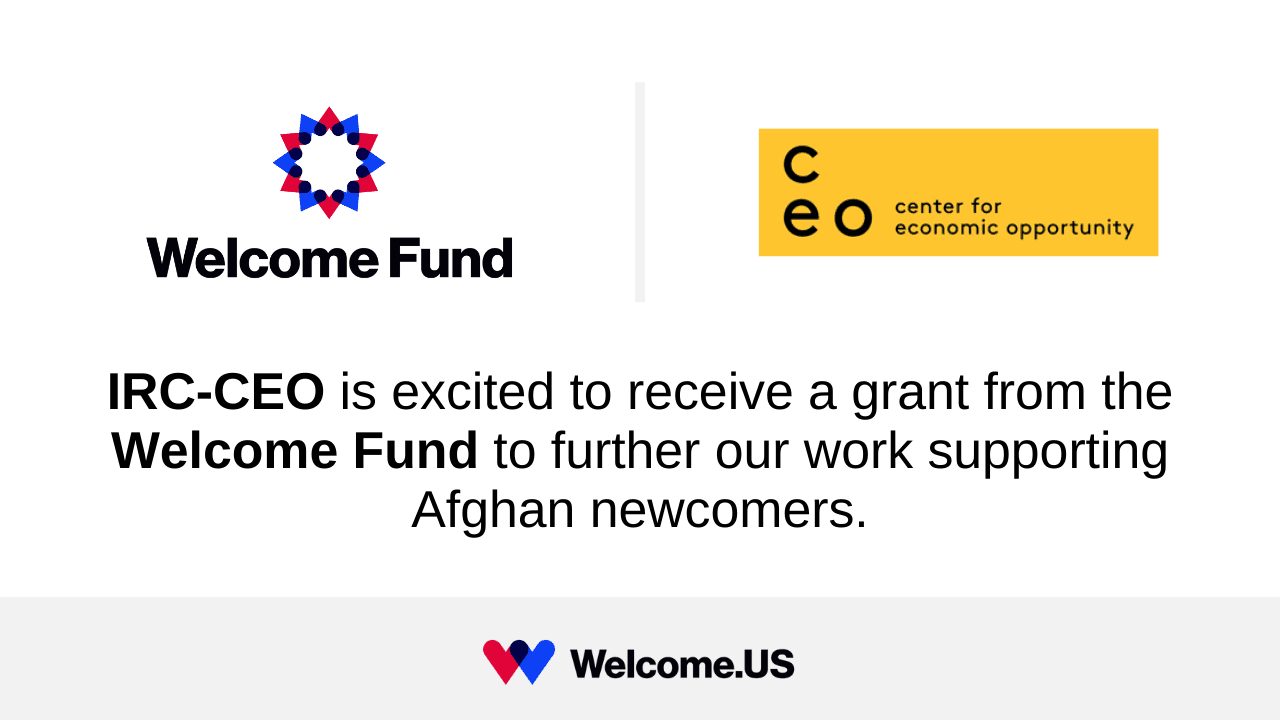 CEO is honored to be one of the 28 recipients trusted with a grant from the Welcome Fund, an initiative of Welcome.US, to help solve the housing crisis facing the arriving Afghan parolee and refugee population.
Below is the press release from Welcome.US in its entirety.
FOR IMMEDIATE RELEASE
November 17, 2021

CONTACT
press@welcome.us

WASHINGTON D.C. — Today, the Welcome Fund awarded more than $8.3 million in grants to 28 nonprofits and resettlement agencies working to meet the immediate relocation and housing needs of our new Afghan neighbors. This is the first set of grants announced by the Welcome Fund, an initiative of Welcome.US, to leverage philanthropic support so that Afghans and others fleeing their homelands are connected to welcoming communities across the United States.

"The Welcome Fund's creative grantmaking to solve the critical arrival and housing challenges facing our new Afghan neighbors illustrates exactly what Welcome.US is setting out to do," said Nazanin Ash, CEO of Welcome.US. "This funding mobilizes support from organizations and Americans eager to participate in welcoming Afghan newcomers, while providing essential capacity to frontline resettlement agencies. It surges resources to community-led organizations with deep knowledge of local solutions and networks, and it advances system-changing innovations that will help transform these efforts in the long run. The work of welcome takes all of us doing our part—and the breadth and vision of these grants is a true expression of that."

The Welcome Fund, hosted by GoFundMe.org, has commitments of more than $12 million to date from over 400 individual donors, corporations, and foundations. This includes a $4.6 million donation from philanthropist Ed Shapiro and The Shapiro Foundation.

"The Welcome Fund is meeting the urgency of this moment with swift and strategic funding to provide for the homecoming of our new Afghan neighbors who have given us so much," said Cecilia Muñoz and John Bridgeland, co-chairs of Welcome.US. "The Fund is a reflection of what Americans do when we are at our best."

As tens of thousands of Afghans move off military bases over the next few months, resettlement agencies, organizations, community nonprofits, and scores of volunteers are working to address their most pressing needs. A nationwide shortage of affordable housing — coupled with the difficulty of renting to families with no credit history in the United States — has made finding housing a top challenge.

In this first round of grants, the Welcome Fund focused on three main areas: (1) increasing the capacity of resettlement agencies to provide housing solutions for Afghans; (2) supporting local organizations helping Afghans in high-impact and diverse geographies; and (3) investing in nonprofits that are addressing systemic relocation, resettlement, and housing challenges.

The grants include $2.5 million in flexible funds to support the nine core resettlement agencies facing an unprecedented challenge of securing short- and long-term housing for Afghan families. Grantees include:
Church World Service
Episcopal Migration Ministries
Ethiopian Community Development Council
HIAS
International Rescue Committee
Lutheran Immigration and Refugee Service
U.S. Committee for Refugee and Immigrants
United States Conference of Catholic Bishops/Migration and Refugee Services
World Relief
"At a time when our network is stretched to its capacity, these additional resources will make a significant difference to help us cover costs of housing solutions for our Afghan friends," said Dr. Tsehaye Teferra, President and CEO of the Ethiopian Community Development Council. "We are grateful for the way the Welcome Fund is mobilizing resources from the public and directing them to where they are most needed."

The Welcome Fund is also providing $600,000 to 12 community-based nonprofits in high-impact and diverse geographies that bring a wide range of assets to the welcoming infrastructure including, but not limited to, housing support, furnishings, new networks of volunteers, language and cultural competencies, and knowledge of and support to navigate U.S. systems. Grantees include:
Combined Arms (Houston, TX)
Homes Not Borders (Maryland/DC area)​​
San Ramon Valley Islamic Center (San Ramon, CA)
KC for Refugees (Kansas City, MO)
Refugee Education Center (Grand Rapids, MI)
Refugee Women's Alliance (Seattle, WA)
Partnership for the Advancement of New Americans (San Diego, CA)
The Spero Project (Oklahoma City, OK)
The Welcome Co-Op (Atlanta, GA)
Women for Afghan Women (Northern Virginia; New York)
The Green Chair Project (Raleigh, NC)
Afghan Refugees Assistance Program of the Islamic Association of Texas (Dallas-Ft. Worth, TX)
"Combined Arms' SIVs & Allies programming was built to ensure that our wartime allies and their families had the support needed to thrive as they embark on their new lives in our community," said Mike Hutchings, CEO of Combined Arms. "We are committed to assisting and supplementing our partner refugee agencies and the refugee community with the housing crisis. By convening and raising awareness to housing agencies, real estate companies, landlords and more about the unique challenges Afghan refugees face, we hope to drive change and ease settlement for the refugee community.

"Women for Afghan Women has been a lifeline for refugee and immigrant communities in New York for twenty years," said Naheed Samadi Bahram, US Country Director for Women for Afghan Women. "We have responded to the surge in refugee resettlement by ensuring Afghan families have access to critical services. We are eager and grateful for the opportunity to welcome our new Afghan community members into their new homes and ensure their well-being after their difficult journey here."

An additional $5.2 million will be deployed to support innovations by nonprofits addressing systemic relocation, resettlement, and housing challenges. The funding will assist organizations with initiatives that include establishing a revolving loan fund for housing, advancing sponsorship of refugees by new partners and community groups, leveraging contributions from the public for short-term housing options, ensuring Afghans can travel to their new communities without incurring travel debt, deploying housing and community navigators at nonprofits, and ensuring best practices are captured and shared across state and local refugee resettlement programs. Grantees include:  
IRC's Center for Economic Opportunity 
Opening Universities for Refugees (an initiative of the Ethiopian Community Development Council)
HIAS Welcome Circles
Community Sponsorship Hub
We Are All America
Airbnb.org Refugee Fund
Miles4Migrants 
State Coordinators of Refugee Resettlement, supported by the American Public Human Services Association and the Migration Policy Institute
"We are navigating unprecedented times," said Sarah Krause, Co-founder and Executive Director of the Community Sponsorship Hub. "Communities are eager for opportunities to welcome Afghan newcomers. As we mobilize around the clock to advance these opportunities, support through the Welcome Fund is critically important. We are grateful to our colleagues at Welcome.US for helping to ensure this work continues."

The Welcome Fund understands that welcoming our new Afghan neighbors will take an all-hands-on-deck approach, and community organizations across the country are stepping up to fill the diverse set of needs — from finding housing to transportation, employment, education, and wellness support. In this spirit, the Welcome Fund will launch its first request for proposals (RFP), which will commit at least $2 million to support local organizations that are working creatively to tap the outpouring of community support. The application will open on Tuesday, November 30, with awardees announced early in 2022.

This effort builds upon the Mobilizing America for Refugees Fund, co-sponsored by the Schultz Foundation, Stand Together Foundation, the Starbucks Foundation, and Hello Neighbor.

About Welcome.US and The Welcome Fund

Welcome.US is a new national initiative built to unite, inspire, and empower the American people to welcome and support those seeking refuge here, starting with our new Afghan neighbors. In partnership with local and national resettlement agencies, Afghan American organizations and leaders, refugees, community sponsorship groups, nonprofits, businesses, faith-based institutions, veterans, universities, three former Presidents and three former First Ladies, Welcome.US is the single point of entry for Americans who want to get involved and support those who are starting new lives in the United States.

A project of Welcome.US, the Welcome Fund provides philanthropy, major donors, and the private sector an effective and coordinated national mechanism that will enable communities to not only support those seeking refuge, but also to build a movement of welcome that extends beyond this immediate crisis. The Welcome Fund is governed by an independent Advisory Committee that ensures that funds are disbursed with integrity and directed to address the most pressing needs and emerging issues. The Advisory Committee is comprised of leaders who bring lived experience, refugee resettlement expertise, grantmaking knowledge, and other resources that are essential to executing the Welcome Fund's mission, including Committee Chair Ngoan Le, former Mayor Richard Berry, Malaak Malikyar Sills, Gregory Maniatis, and Ed Shapiro.
To learn more about Welcome.US, please visit welcome.us. 

For press inquiries, please contact press@welcome.us.

About GoFundMe.org

GoFundMe.org, an independent public charity, manages and receives donations for the Welcome Fund from individual and philanthropic donors. Recommendations for potential grantees are made by the Welcome Fund Advisory Committee to GoFundMe.org, which provides rigorous fiduciary and compliance oversight; supports rapid deployment of grants; and ensures timely and transparent reporting. 
###